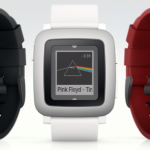 If you have not heard…Pebble is releasing a new product called "Pebble Time". The kickstarted has already raised more then 11M and it still has 28 days left!
You can find out more here: https://www.kickstarter.com/projects/597507018/pebble-time-awesome-smartwatch-no-compromises
Sounds like a great watch with outstanding battery life. Lets see what stretch goals come about!